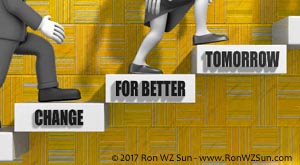 CHANGE... FOR YOUR OWN SAKE.
WELCOME. You're here with a purpose and vision, just like many others who're here earlier. If you hope we can change your life (and destiny path) for you, then you'll be disappointed. We don't have the supreme power to change your life, or ability to mind-control your behaviours and actions. You see, any transformation change on you MUST be done only by YOU. Not us, and no one else...

Now that you're here, let us share the good news... We could guide you to make the positive change, when you're serious and ready.

We've methods (knowledge and techniques) that empowered others to make positive changes, but we aren't sure if you're ready for it. Give yourself a chance and the opportunity to show to yourself (and not to us) that you can learn (with the right EON techniques) to nurture and strengthen your own SEEDS OF CHANGE. When you do things right, you'll stay OK, and feeling even better!

CHANGE is inevitable today. Your reactions and responses to the unpredictables and challenges determine your character strength, aptitude, and resolute. Drop the destructive habits ruining your life. Instead, let your positive actions show the best you can be. Since you've a purpose to be here, start to understand yourself better. Learn the ways to adjust and adapt your beliefs, and display your positive attitudes. Show off your best behaviours and actions - they're useful, positive, and powerful habits that you can depend on anytime. Eventually, you'll thank yourself for believing in you... and you'd be glad you've done it - just like many others - and changed positively to what you're meant to be.

As the saying goes, "Knowing Others is Wisdom, Knowing Yourself is Enlightenment." Life's better (and healthier too) when you smile and gives more. "When you know yourself, you are Empowered. When you accept yourself, you are Invincible." Take the steps ahead and choose how you want to feel afterwards. Change now... for better tomorrow and good times ahead.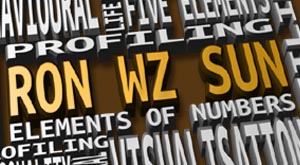 I THINK, THEREFORE I AM.
Hi, my name is RON WZ SUN. I'm the author of the book "Elements of Numbers: Fast and Easy Character Profiling," and a blogger posting regular articles at my other site at ElementsOfNumbers.com. I'm also the creator for "Numbers in Positive Light Oracle" deck set, based on my EON method.

I developed the Elements of Numbers (EON) method by combining my experiences and knowledge in Western and Chinese Metaphysics systems, with numerology. My other experience developing Chinese metaphysics software titles and the FEON+ software, helped inculcate the drive and passion for root-cause analysis, enabling the EON method to become a viable profiling tool for personality analysis.

I conduct interactive FEN (Five Elements Numerology) classes, and complementary profiling workshop sessions to impart my skills and teach students to understand and apply profiling techniques quickly. My students praised me on my teaching style, visualisation techniques, presentation materials, and most importantly, my willingness, humbleness, and passion to share my knowledge and experiences with them in class, and through my blog articles.

My students, and many others, have benefitted from the Elements of Numbers (EON) method and my teachings. They've enjoyed positive changes, happily. How about you?
CHANGING LIFE... ENRICHING LIVES.
GOALS:
To empower you with the knowhow to make positive changes to your life.
HOW:
To impart the profiling techniques and self-understanding knowledge to you in simple, visual way. To enable you the means to know yourself and others better.
FOR INDIVIDUAL USERS: Learn to identify character traits and outcomes; and build the knowledge to understand personalities and human behaviours from fresh perspectives. Know why people behave in certain manners, and how you can guide them to become better person. Apply the EON fundamentals and empower yourself to change your life - because you can enjoy happier times sooner. HAPPY PEOPLE DON'T HAVE THE BEST OF EVERYTHING, THEY MADE THE BEST OF EVERYTHING.

FOR CORPORATE USERS: Analyse staff behaviours and build better team-building environment from a fresh perspective. Understand how the EON method can be an alternative profiling workflow that's useful for HR (Human Resources) professionals, head hunters and Employment Agencies consultants. Oh, let's not forget the Maid Agencies & Social Care Service Providers too! Know why it's handy when tasked to perform human behavioural and personality profiling. Learn to job-match suitable candidates to their roles and tasks, from their profiled personalities and characters. Get to know the EON method as an easier profiling tool, and build the knowledge to create a better productive, efficient, and happy working environment. HAPPY EMPLOYEES = HAPPY CUSTOMERS = SUCCESSFUL COMPANY.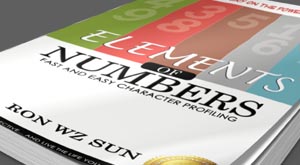 SEEDS OF CHANGE... IT'S IN MY BOOK.
Hi, I'm Ron WZ Sun. I'm the author of the book, "Elements of Numbers: Fast and Easy Character Profiling." My book is available at selective local bookstores (like Kinokuniya, Times, and Popular) in Singapore (whilst stocks last).

You can now purchase the book (latest - 3rd Print Edition) online from me directly if you're staying anywhere in the world. I will despatch the book to you via registered postal parcel/article to any valid address reachable by your your local postal service. Click this link for information and to buy my book.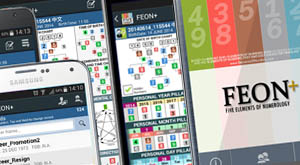 PROFILING TOOL... FOR SMART USERS LIKE YOU!
Hi, I'm Ron WZ Sun. I developed the
FEON+
software for my own profiling use initially, and decided to release the tool for other users. While you can still take some time to plot the various charts through the
"pen/pencil and paper"
way, I prefer automating the mundane plotting process without worrying about making careless mistake on charting computations. Imagine getting the different charts and essential information displayed within a few seconds,
fuss free
. You have more time on analysing the charts and finding clues from the information displayed on the software screen.
As a blogger to my own
ElementsOfNumbers.com
site, I often rely on the different charts and information displayed from the
FEON+
software to provide extra clues for my case study articles. You can use the
FEON+
to correlate the observations in my article, and explore further when extra insights and clues are mentioned in my analysis.
The advanced charts and information displayed on the
FEON+
software is specially designed for my students who attended the
FEN
(Five Elements Numerology)
classes. Moreover,
EON
users would find the additional charts and information useful to allow them to understand the progressive
EON
techniques, at their own time. More details of
FEON+
features and purchase can be found at my affiliate site at
MeganWorx Software
.
FOR A POSITIVE PROFILING & LEARNING EXPERIENCE
Our courses are designed for users who're already familiar with other numerology methods (like PON, UCMHP, LifeQuest), and felt the importance and need to improve their profiling skills and analytical habits with the EON (Elements of Numbers) methods. Users who've been practising the basic techniques described in the "
Elements of Numbers: Fast and Easy Character Profiling
" book are also encouraged to attend our courses to expand their knowledge and profiling skill sets.
We strives to impart practical and logical profiling techniques to empower you with the knowledge and confidence to make a positive transformation change on anyone, including yourself.


For more information, click button options below...